An Elegant Vase
Loveliest selection of flowers ha...
from US$ 68.00
Dawn
An inspiration from nature - a fl...
from US$ 60.50
Sugar Pop!
A gorgeous mix of brightly colour...
from US$ 58.00
Ava
Stunning Aqua box in whites and c...
from US$ 61.50
Hugs and Kisses
Petite hand tied presented in a h...
from US$ 59.50
You're Wonderful
A spring hand tied in a glass vas...
from US$ 66.00
<! --- End Best Sellers Section --->
Flower delivery by florists in France
If you want to send flowers to France, you can now take advantage of a new and unique service. Direct2florist is the only website that allows you to select the florist that delivers your flowers, plants and bouquet arrangements, allowing you to choose from hundreds of florists in France after seeing pictures of their individual flowers and gift arrangements. All the listed flowers and arrangements are available for next day flower delivery to France and, if an order is placed by 2pm local time, same day delivery is also possible. We will be able to deliver same day to most locations but due to the remote location of some delivery areas, same day delivery is not always possible. However, our local florist will arrange delivery for as soon as possible and advise you of any delays where required.

When sending flowers to France using Direct2florist, you get the opportunity to choose your local florist who will deliver your flowers in France. Going direct to local florists in France means bigger, more beautiful bouquets and excellent service via your chosen French florist.
Order flowers online in France - hand delivered by a local florist
We have plenty of local French flower shops who display their own floral designs and gift arrangements. Our local florists in France display their own gifts and gift baskets. Direct2Florist offers secure and easy ways for shoppers to order from independent florist - if you want it, we're sure they've got it!

Direct2Florist's talented local florists can deliver flowers for all occasions. From romantic Valentine's Day roses, flowers for the home this Christmas, bouquets to say thank you and sympathy flowers, as well as flowers for a wedding anniversary or birthday and a super selection of Mother's Day flowers suitable for mums of all ages, at prices that won't hurt your pocket.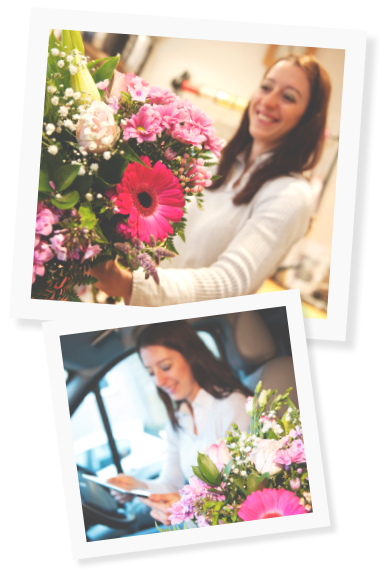 <! --- End viz Section --->